WE'RE
K J Auto Spare Parts Co LLC
K J Auto Spare Parts Co LLC, established in 1994 by Mr. Raman Kutty Jayaram, is now one of the largest Private Sector enterprises in UAE and Oman. The operations of the company currently encompass business sectors of Quality OEM replacement parts for European Trucks and Trailers.
The organization also has two major divisions as independent companies, K&J Power House Equipment Co. LLC and K & J Fuel Injection Co. LLC.
The company is committed to provide the best service and spare parts support to its valued customers. The company aims to satisfy customer needs by providing the most economical solutions for spare parts and services. K J is proud to be among st top spare parts supplier in the Middle East for European Trucks and Trailers.
2009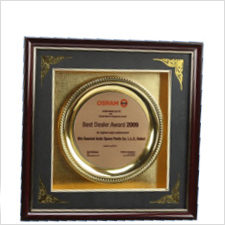 2010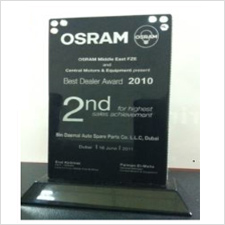 OSRAM Best Dealer Award 2010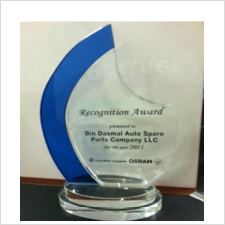 OSRAM Recognition Award 2011
2011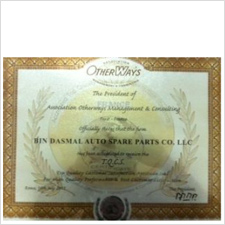 OTHER WAYS Consulting Certified Quality Assurance & Customer Satisfactions in 2011
2011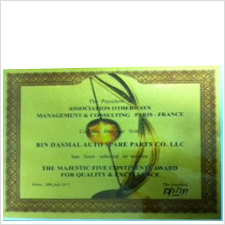 OTHER WAYS Consulting Certified Quality Assurance & Customer Satisfactions in 2011
2011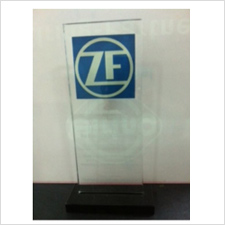 ZF Service Middle East Customer of the year in 2011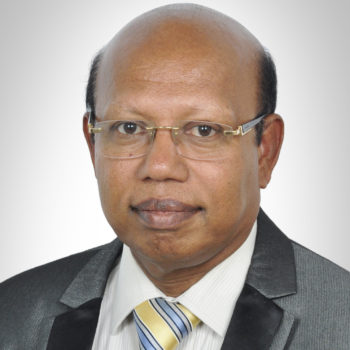 Raman Kutty Jayaram
Chairman
Chairman's Message

Our honest and foremost intention is to be one of the top most in the GCC European Truck Parts Industry. By adhering to specific customer needs and with the ultimate aim of satisfying the customer, we promise to commit to the best practices which ensures both the company and our valuable employees benefit.We invest time and effort in developing employees, so that at the end of the day, a simple yet the most important motto of the company is met – Customer Satisfaction is what to be striven for!Vision Sincere effort and dedication will ensure our market leader position and so no way except the right way is the way to befollowed. True success will never come with any short cuts so any kind of such activities is completely out of the picture. By providing our esteemed clientele with quality products we endeavor to change the scenario for BOTH customers and employees for the better. At the end, our operational procedure is the same –Nothing is good enough as it is, Evolve and Adapt for continuous improvement. Always see the big picture, Work just not for today, tomorrow is what matters the MOST !

Raman Kutty Jayaram,
K&J Power House Equipment LLC
K&J Power House Equipment LLC

( An ISO 9001:2008 Certified Company )
K&J Power House was set up in the year 2006 at Dubai Investment Park, Jebel Ali.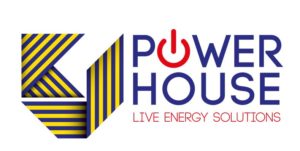 It started this venture with a Plant Hire Division, renting out Generators from 12 KVA up to 2500 KVA. We have acquired a fleet of the best quality Generators and employed highly qualified Engineers and Technicians trained to deliver the highest quality of professional services so that our Customers receive nothing less but the best. We also offer Annual Contracts for regular servicing of Customers Generators on site. Being very service oriented, we provide services 24 hours a day, all the year through and believe in prompt and efficient services which are extremely reliable and dependable.
Besides Plant Hire, we have started a Motor Rewinding Division, which has the capacity to rewind LV Equipment, both AC & DC, from fractional HP to 2000 KW. Our Electrical Division deals with building and repairing of panel boards and fault finding. With qualified staff and excellent time response, we are flexible to our customers needs and believe in long-term relations. We are also very competitive where our pricing is concerned and guarantee definite value for money. We are also able to Supply Generators from 12 KVA to 2500 KVA, Submersible Pump Motors to the capacity of 0.5 HP to 225 HP ranging from 4" to 10" Diameter and AC Electric Induction Motors three phase and single phase, ranging from 0.09 KW to 250 KW in 2, 4, 6 and 8 pole. Our Dynamic Balancing Department can handle rotating equipment 2 Tons in capacity, 2 meters in diameter and 2 meters in length. The machine we use for balancing is IRD Enteck
Our Mission
Our honest intention is to be one of the best in Power generation and European Truck Spare Parts Industry. By creating a niche, being ambitious, driven by customer satisfaction this goal will allow us to commit ourselves to the best practices which will result in growth for the company and its employees in whom we invest.
Our Vision
Our dedication will guarantee us to be the Market Leader, hence we disseminate highest quality of goods and services which can be enjoyed by one and all. By providing the basics we endeavor to change the life for better for our discerning customers and employees at home. We evolve every day to provide the best!
Products & Services
• Generator Rental – Always Powered Up With Range Of Generators, motor and pumps
• Hiring, installing and servicing of DG sets
• Load Bank
• Rewinding & Testing
• IRD Balancing
K & J Diesel Service
K & J Diesel Service

K & J The Business Partner of Bosch, The Global Business Leader in Diesel Technology
K & J DIESEL SERVICE is the authorized diesel service unit of BOSCH.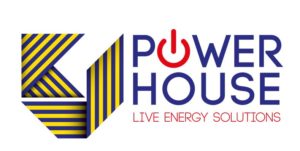 Since the production of the first diesel truck in 1924 and first diesel passenger car in 1936, Bosch has been the worlds leading provider of diesel technology. Through close cooperation with engine designers and constant innovation in development and production, modern high-pressure systems have been created in the last few years. The high performance and economy of these electronically controlled diesel systems make these diesel vehicles more and more popular. Parallel to the expertise being built up in initial equipment; innovative test equipment including corresponding software ESI [tronic] has been developed. They make diagnosis of the diesel systems possible at the vehicle to allow subsequent selective replacement of defective components. Bosch thus makes it possible for all workshops to master modern diesel systems and to take advantage of new turnover potential.
Features of K & J DIESEL SERVICE
1. Introduction of Electronic Fuel Injection Testing Machine and Accessories
We are the first in UAE introduced Bosch Electronic Fuel Injection Testing Machine and Accessories for the diagnosis of the new generation FIP using following technologies;
• Common Rail
• Unit Pump (New BOSCH CAM BOX Technology)
• Unit Injector System
2. MGT
Measuring system with measuring glass technology for conventional diesel injection pumps upto 12 cylinders for meeting the requirement of old generation Pumps.
3. Petrol Injector Diagnostic Testing & Servicing
Inaddition to diesel service we are also using Petrol Injector of ASNU for the diagnosis of Petrol Injectors.
Our Commitment
Provide maximum customer satisfaction through
• Diagnosis in line with the instructions of BOSCH
• Professionally qualified and technically competent Engineers.
• Diagnosis and rectification of problems within short time
• Guaranteeing Best Results
• Fair Prices for the services